In the countryside of Spoleto, within the heart of Umbria, we're ready to welcome you for pleasant periods surrounded in nature and art.
FIND OUT THE EVENTS
FIND OUT ALL EVENTS UMBRIA PROPOSES, BETWEEN CULTURE AND HISTORICAL COMMEMORATIONS
As a guest of our farmhouse, you could appreciate all the events, shows, historical festivals and concerts taking place in the small delightful Umbrian towns. The
Spoleto Festival
, the
Quintana Carousel
in Foligno, the medieval
Gaite Market
in Bevagna, or the
Race of the Candles
(Festa dei Ceri) in Gubbio are only some among such important events.
BROWSE THE IMAGES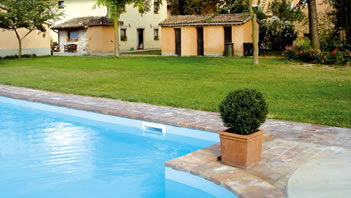 LOOK CLOSELY AT OUR ENVIRONMENTS
Browse our photo gallery, you can see the family atmosphere that awaits you.


Events
The Spoleto Festival, also known as "Festival dei Due Mondi...
The TV series which has got a great success is in Spoleto for its...
The International Dance Competition which has reached its 25th ed...
Look at all rooms of our farmhouse, all fined restored and perfectly maintained in the historic style of XVII century

In wine cellars, where, in ancient times, grapes were pressed and wine was stocked
in big wooden barrels, it's now possible to relax an take some refreshments in front of the fireplace.
The green grass is such a gorgeous framework to the swimming pool
exclusive to be used by our guests during all their holiday time.